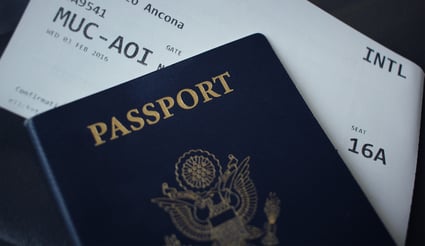 If your trip requires a passport, it must be valid for at least six months beyond the return date. If you do not already have a passport, or if yours will expire prior to the required time period indicated above, you should begin the procedure for obtaining or renewing one as soon as possible. Visit the U.S. Department of State's Website for more information and assistance.
Always remember to keep your passport with you at all times—never pack it in your suitcase. You will need it at check-in for international flights as well as other situations such as identification when cashing travelers cheques and at hotel reception desks.
It is always a good idea to carry a photocopy of the data page of your passport that has your photograph, along with a spare passport photograph. In the unlikely event that you lose your passport, these can be used as proof of identity and speed the process of obtaining a replacement. Keep these duplicates in a place separate from your passport.
A visa is a permit from a foreign government for you to enter their country. It is issued as a separate card or stamped entry in your passport by that country's Embassy or Consulate in the U.S. Visas can take several weeks to obtain. Most countries do not require a visa for American citizens. If you are required to have a visa, it will be noted in your brochure and Travelink will send you forms and information at the appropriate time.
You must already have a passport before you can obtain a visa. Costs of the visa and the processing fees are generally not included in your tour price. For more information visit the U.S. Department of State's Website which provides information on every country in the world whether you need a visa, crime and security information, health and medical conditions, drug penalties, or localized hot spots.
For complete passport, visa, and immigration information and service, please visit CIBTvisas.